Bluetooth Driver Installer
Get Bluetooth to work with the Microsoft Bluetooth stack.
About
This small freeware utility will try to install generic Microsoft driver for your bluetooth adapter. The program is based on a widely known method of patching %WinDir%\inf\bth.inf file.
It works for most (but not all) bluetooth adapters, both USB dongles and built-in. (See the list of bluetooth devices and hardware IDs known to work. Note that this list is not exhaustive.)
Before making changes to your system the program automatically creates a restore point. If anything goes wrong you can use Windows System Restore feature to revert all changes made to your computer.
User comments
Fantastic tool! We recommend it to customers of our bluetooth marketing software to resolve problems with bluetooth drivers.

smartbluetoothmarketing.com

Tried many times to get rid of the Toshiba stack. With the Bluetooth Driver Installer software finally success.

posted anonymously

I was having problems syncing my blackberry with the software and WIDCOMM Drivers issued with the IOGEAR USB Micro Adapter but your bluetooth driver software took care of all of my issues!

posted anonymously
Screenshots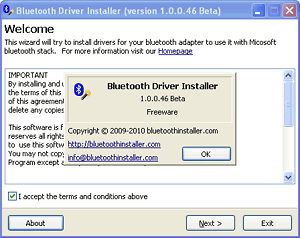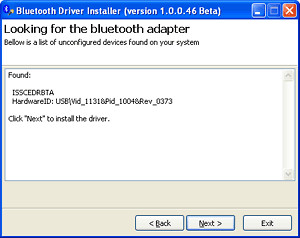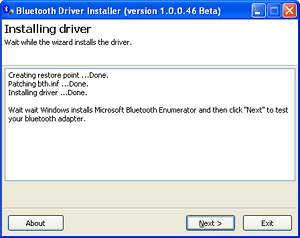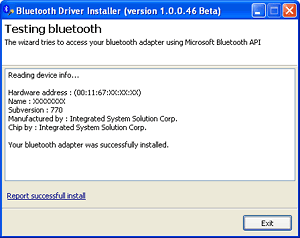 Video demo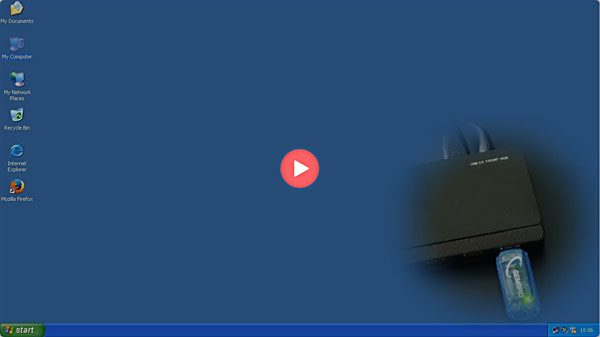 Version history
1.0.0.128 June 17, 2018

1.0.0.112 June 6, 2017

1.0.0.104 June 26, 2016

1.0.0.98 June 23, 2015

1.0.0.96 September 30, 2014

1.0.0.94 March 23, 2014

1.0.0.92 September 8, 2013

1.0.0.89 March 3, 2013

1.0.0.84 October 29, 2012

1.0.0.81 July 17, 2012

1.0.0.78 April 9, 2012

1.0.0.76 January 15, 2012

1.0.0.75 December 18, 2011


Released native 64-bit (x64) version

1.0.0.72 September 4, 2011

1.0.0.62 January 19, 2011

1.0.0.56 October 9, 2010

1.0.0.54 July 10, 2010

1.0.0.51 April 9, 2010


[Fixed] Error: Cannot open file "c:\windows\inf\bth.inf". Missing bth.inf file is recovered when installing over existing Bluesoleil stack.

1.0.0.48 February 10, 2010


[Fixed] Error (report code CCB-F).

1.0.0.46 January 10, 2010


[Fixed] Error: System Error. Code: 259. No more data is available. (ERROR_NO_MORE_ITEMS)

1.0.0.43 December 26, 2009


[Fixed] Error: Cannot open file "c:\windows\inf\bth.inf". The system cannot find the file specified.
[+] Improved algorithm of detecting unconfigured bluetooth hardware (in some cases bluetooth adapter was not detected after uninstallation of the existing bluetooth stack).
[+] Now it is possible to proceed with the installation without removing existing bluetooth stack. (Use with caution. In case of failure try uninstall existing stack first).

1.0.0.31 December 12, 2009


[+] More detailed error and diagnostic messages
[+] Full information on the successfully installed bluetooth adapter

1.0.0.25 November 23, 2009


Initial public release.
Known issues
System Error. Code: -536870347 (FFFFFFFFE0000237)
Happens on x64 platform. Under investigation, very likely will be fixed soon.
Try the following: Open Device Manager, right click on root node (computer) and select "Scan for hardware changes". Let Windows to find and install driver automatically.
Download
Download Bluetooth Driver Installer, version 1.0.0.151 Beta, released on February 20, 2023
32-bit (x86) version BluetoothDriverInstaller.exe (2.1 Mb) [md5 hash: 63cab4fd383468e1c4c7c47878cea029]
64-bit (x64) version BluetoothDriverInstaller_x64.exe (3.2 Mb) [md5 hash: 9c362485ed8046c4dd51ef71d015d8a7]
How to use
1. Uninstall your existing bluetooth stack (driver software that came with the bluetooth adapter).
2. Reboot your computer and click "Cancel" when Windows asks for the driver.
3. Run BluetoothDriverInstaller.exe and follow instructions of the wizard.

Uninstallation

There is no need to uninstall Bluetooth Driver Installer itself, just delete downloaded file.
To rollback changes made to you system use Windows System Restore feature (available from Start Menu - Programs - Accessories - System Tools - System Restore).
Backup copies of bth.inf file can be found in
c:\Documents and Settings\USERNAME\Application Data\BluetoothDriverInstaller\ - on Windows XP
c:\Users\USERNAME\AppData\Roaming\BluetoothDriverInstaller\ - on Windows Vista and Windows 7
Note: No changes have been made to your system if you exited the wizard on the second step (due to "No unconfigured bluetooth hardware found" error).
Switching between different bluetooth stacks
Lots of Bluetooth applications work only under certain bluetooth stack. To quickly switch your bluetooth adapter between multiple installed stacks you can use Bluetooth Stack Switcher.
How to change Bluetooth Address (MAC address) under Windows
If for some reason you wish to modify the Bluetooth Address of your dongle, try Bluetooth MAC Address Changer.
Bluetooth software
You may wish to check out Bluetooth Command Line Tools - a set of console utilities designed to work with Microsoft bluetooth stack.
Other Bluetooth resources
Visit our free premoderated Directory of Bluetooth Resources.
Owners of bluetooth related resources are welcome to add their links.
License
By installing and using the software, you agree to be bound by the terms of this agreement. If you do not agree to the terms of this agreement, do not install or use this software and delete any copies of the software that you have downloaded.

This software is freeware. The author of this software reserves all rights granted by copyright. Permission is granted to use this software for personal and commercial purposes.
You may not copy, modify, sublicense, or distribute the Program except as expressly authorized by the author.

DISCLAIMER
THE SOFTWARE IS PROVIDED "AS IS", WITHOUT WARRANTY OF ANY KIND, EXPRESS OR IMPLIED, INCLUDING BUT NOT LIMITED TO THE WARRANTIES OF MERCHANTABILITY, FITNESS FOR A PARTICULAR PURPOSE AND NONINFRINGEMENT. IN NO EVENT SHALL THE AUTHORS OR COPYRIGHT HOLDERS BE LIABLE FOR ANY CLAIM, DAMAGES OR OTHER LIABILITY, WHETHER IN AN ACTION OF
CONTRACT, TORT OR OTHERWISE, ARISING FROM, OUT OF OR IN CONNECTION WITH THE SOFTWARE OR THE USE OR OTHER DEALINGS IN THE SOFTWARE.

Feedback and contacts
Please report bugs and send a feedback to info@bluetoothinstaller.com
Follow us on Twitter (@BluetoothInstal)
Our RSS feed
---
Donate | Check for updates | Directory of Bluetooth Resources | Bluetooth Command Line Tools
Privacy policy | Terms and conditions
Copyright © 2009-2023 BluetoothInstaller.com